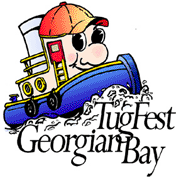 MIDLAND TOWN DOCK
AUGUST 19 and 20 - 2023


TugFest is scheduled for August 20 and 21 at the town dock in beautiful down town of Midland, located on the Southeast corner of Georgian Bay, just half an hour north of Barrie.
TugFest will offer visitors two days of family entertaiment with over 18 historic and interesting tugs and work vessels and exciting on-shore activities as well as a huge lne up of activities to entertain the whole family.
RIBFEST, Northern Heat Series, witll be running in David Only Park all weekendark. Come and enjoy a feast of ribs will enjoying all the activities.
The weekend will include a Midway, musical bands, artisansand vendors, buskers a Juggling Pirate show and much more.
TugFest Activities Lineup:
Friday:
Tugs start arriving at Town Dock

4 - 11pm

Midway

(Portion Of Harbour Parking Lot)

4 - 11pm

Northern Heat Rib Series

Harbourside Park

6 - 9pm

93 North Band

Midland Town Dock

Artisans and Vendors

(David Onley Park)

11am - 5pm

Midway (Portion Of Harbour Parking Lot)

11am - 11pm

Northern Heat Rib Series Harbourside Park

12:00 noon

TUGFEST

Horn Blast

Boats Leave Dock

12:30 pm

Tug Races off main dock

08:45 pm(dusk)

Light parade of tugs






Sunday - Aug 20th:

10:00 am

Entertainment until 6pm

12:00 pm

Tugs leave dock for sail past

12:30 pm

Tug Demonstration and Tug Push Contest

02:00 pm

Tugs return to dock

3 to 5 pm

Select Tugs open for tours. RibFest and Entertainment on dock continue

Monday:

Boats disperse back to their Ports of Call