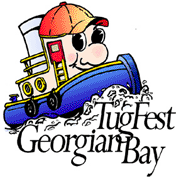 MIDLAND TOWN DOCK
AUGUST 19 and 20 - 2023


TugFest Georgian Bay is back at the Midland Town Dock again in 2023. Tugfest brings a matchless family experience that featues a host of both historical and distinctive work boats and recreational tug-style vessels.
In 2023, TugFest will offer visitors a full lineup of marine and family entertainment activities which will include the spectacular tugboat parade of lights on Saturday nightnight, tug parade and demonstration on Sunday.
TugFest will pride a full weekend of entertainment for the family inclding RibFest, musuical group, kids activiries and mini carnival.
Boat arrive Friday and the event lineup starts on Saturday. Watch for the full schedule to come