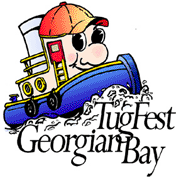 MIDLAND TOWN DOCK
AUGUST 20 and 21, 2021


TugFest Georgian Bay is back at the Midland Town Dock again in 2021. Tugfest brings a matchless family experience that featues a host of both historical and distinctive work boats and recreational tug-style vessels.
2021 will be a different year considering the world wide Covid-19 pandemic. A full lineup of tugs and workboats will be present but the audience on the dock will be limitied at any one time.
TugFest will offer visitors a limited lineup of marine and family entertainment activities which will include the spectacular tugboat parade of lights on Friday night, tug parade and demonstration on Saturday, and entertainment on the dock. Unfortunately, the tug boat tours will not be able to occur this year, but will be back next year.