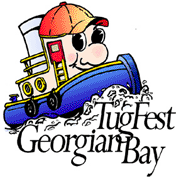 MIDLAND TOWN DOCK
AUGUST 17 and 18 - 2018


HOME-MADE CARDBOARD TUGBOAT RACE
Saturday August 26rd Midland Town Dock
Come to TugFest...
Be part of the festivities...
Build your own cardboard tugboat...
Race it...
Win Prizes!
Come and join in the fun at TugFest & HarbourFair. Bring a team. Build a boat and then join in the race. Lot's of prizes, Lot's of fun. Register early. This will be a popular event.
The Rules are Simple:
Boats are to be constructed of cardboard and whatever holds it together.
Build your vesel on site or at home and bring to the dock on Saturday
Contestants must race vessels over a fixed course.
Vessel must be manually powered.
Pilot must be 12 years or over
All pilots must wear life jackets
$20 entry fee
Print the Registration Form and drop it off at the Harbour Master's Office at the Midland Town Dock.
E-mail Cardboard Tugboat Race Registration